Town Car Service in Jackson, MS
Need an easy way to get around town? Seeking an alternative means of getting to the airport for frequent travel? At Phoenix Limousine and Luxury Coach, we provide sedan services to residential and commercial customers in Jackson, MS. Whether you're looking for a one-time pickup or wish to retain our services to benefit your company, we're ready to handle all of your transportation-related needs.
The Excellent Service You Deserve
At Phoenix Limousine and Luxury Coach, we pride ourselves on providing excellent service, no matter the length or scope of the job. Our stylish sedans are clean and well-maintained so that you can arrive at your destination feeling refreshed and relaxed. And our courteous sedan drivers know the local area inside and out, which means you won't have to worry about getting lost along the way.
Let our team take the hassle out of local transportation. Call now to learn more about our sedan services.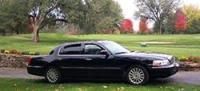 Useful for airport transfers, business meetings, doctor?s appointments and more!
Got the 26 passenger bus to transfer the groomsmen to the Sterling Hall in Canton then to come back and bring the bride and all the bridesmaids to the venue. They all had a blast and your company was punctual, professional and personable. Thank you for helping make my daughter's day perfect!

- Karen Honea Skeen. 11/9/2019

- Adrian Beddingfield. 5/4/2018

Loved the service! Driver was really professional with a bus full of loud singing and dancing women lol! The Limo bus was super nice! Me and my girls enjoyed our night on the town! Thanks Phoenix, we felt like stars!

- unvme2much1 . 10/25/2017